Description
Make your own mix of natural stones. Get in touch with our team and we will advise you on the perfect combination of stones to enhance your inner energy!
become a positive energy magnet. You can change your mix of stones as many times as you want, collecting combinations of personalized stones that will charge you with energy whenever you wear them.
NEWAGE PROPERTIES OF NATURAL STONES: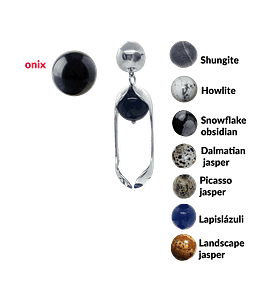 Shungite: neutralize negative energy and stabilize yourself. Find the north again!
Howlite: reach your goals, be ambitious with your dreams!
Snowflake Obsidian: do you feel like there is something blocking your way? break it and move on!
Dalmatian Jaspe: are you willing to change your life? propel yourself and charge with the energy of this stone.
Picasso Jasper:

materialize ideas, make them come true and turn them into action. take courage, you can do everything you dream of!

Lapislazuli: if truth is essential in your life, this stone helps you to have clarity and objectivity. reduce stress and seek peace!
Landscape Jaspe: this stone brings high doses of enthusiasm and confidence. Be happy!